Portable Cabin / Cabin Container / House Cabin / Container Cabin for Accommodation / Office / School (CILC-Cabin-001)

1. Advantages
1)Certified by LPCB for CN31 ISO9001.14001 ABS
2)10 years experience of modular container
3)40, 000 square meters factory
4)Efficient Transportation
5)Fast construction
6)Flexible Combination
7)Cost saving
8)Sustainability
9)Professional Design and R&D team
10)Global standards meet (CE, CSA, AS/NZS, UL etc. )
And
Fast assembly, fast delivery, fast designable.
Based on our modular concept, it will enable anyone to design his unique blueprint, just like "LEGO" to the kids.

2. Certificate
Upon the efforts during the progress of developing the products, we have achieved certificate as following:
ISO9001, ISO14001, Australian Standard, UL, Chilean Standard.

3. Standard basic specification
Here below is the standard specification of our typical unit:
Standard measurements of C I L C Module-Containers:

External length/Inner length: 6058/5818mm.
External width/Inner width: 2438/2198mm.
External height/Inner height: 2896/2596mm.

Structural Strength
Therr storeys high stacking, with the following design loads.
Floors: 250Kg/Sq. M
Roofs (of modules): 150Kg/Sq. M
Walkway: 500Kg/Sq. M
Stairs: 500Kg/Sq. M
Walls: Wind at 150 Km /Hour

Thermal insulation
Floor: 0.34W/Sq. M/° C
Walls: 0.20W/Sq. M/° C
Roofs: 0.30W/Sq. M/° C

4. Company Profile
CILC Home Co., Ltd., ( CILC) design, produce, deliver, install, and maintain office container, labor camp container, accommodation container, cabin container, prefabricated building container, flat pack container, modular container, container house, mobile house, portable house. We have 7 experienced engineers who can give professional suggestion to the clients; Also they can design for the clients as per their requirements. We have 100 workers making production in the factory and we can send a skilled team of 100 workers to supply installation service all over the world. We have 15 staffs to supply excellent service for our customers. Our capacity is 1000 units per month. We have 20, 000 square meters workshop with nice and efficient production line.
We can also supply reefer, fuel tank container, Storage Container, Shelter Container and various special containers.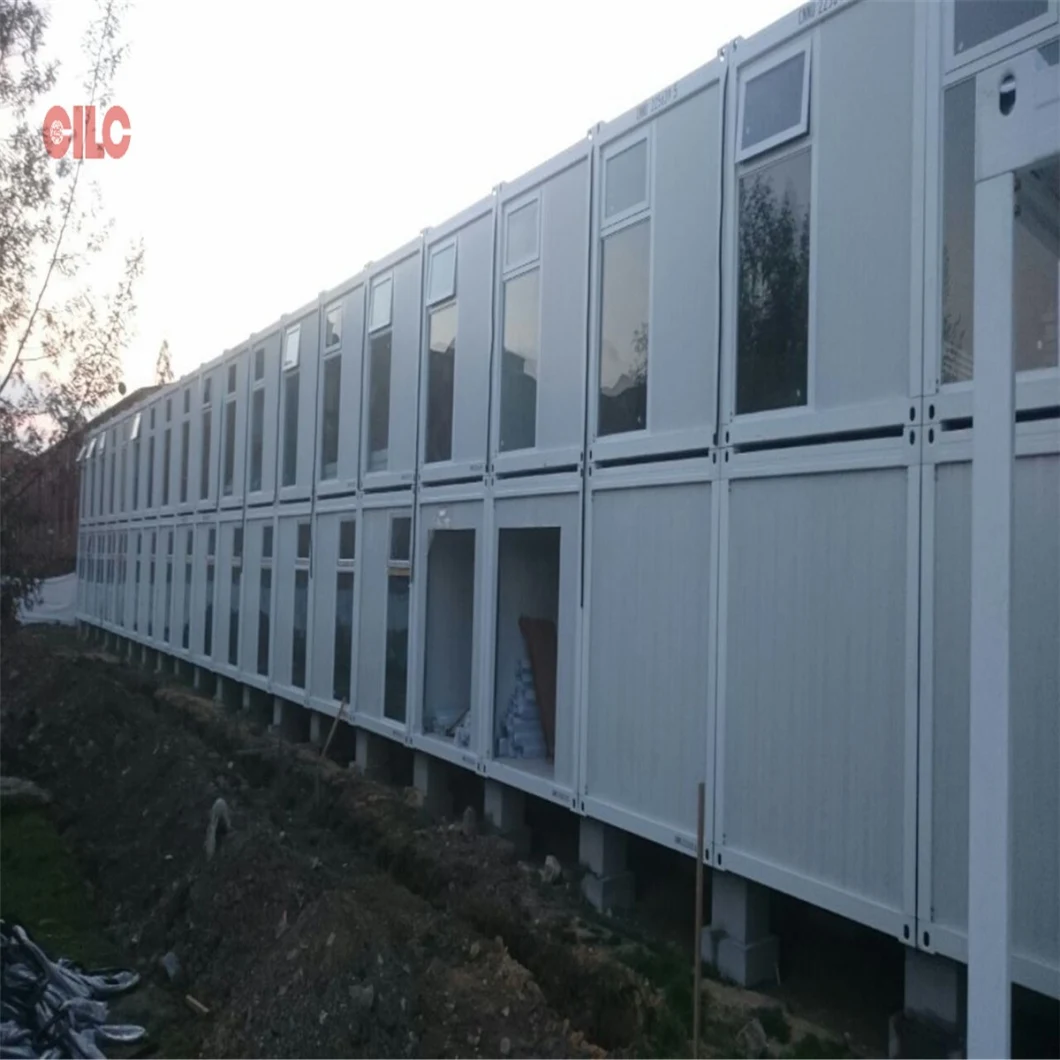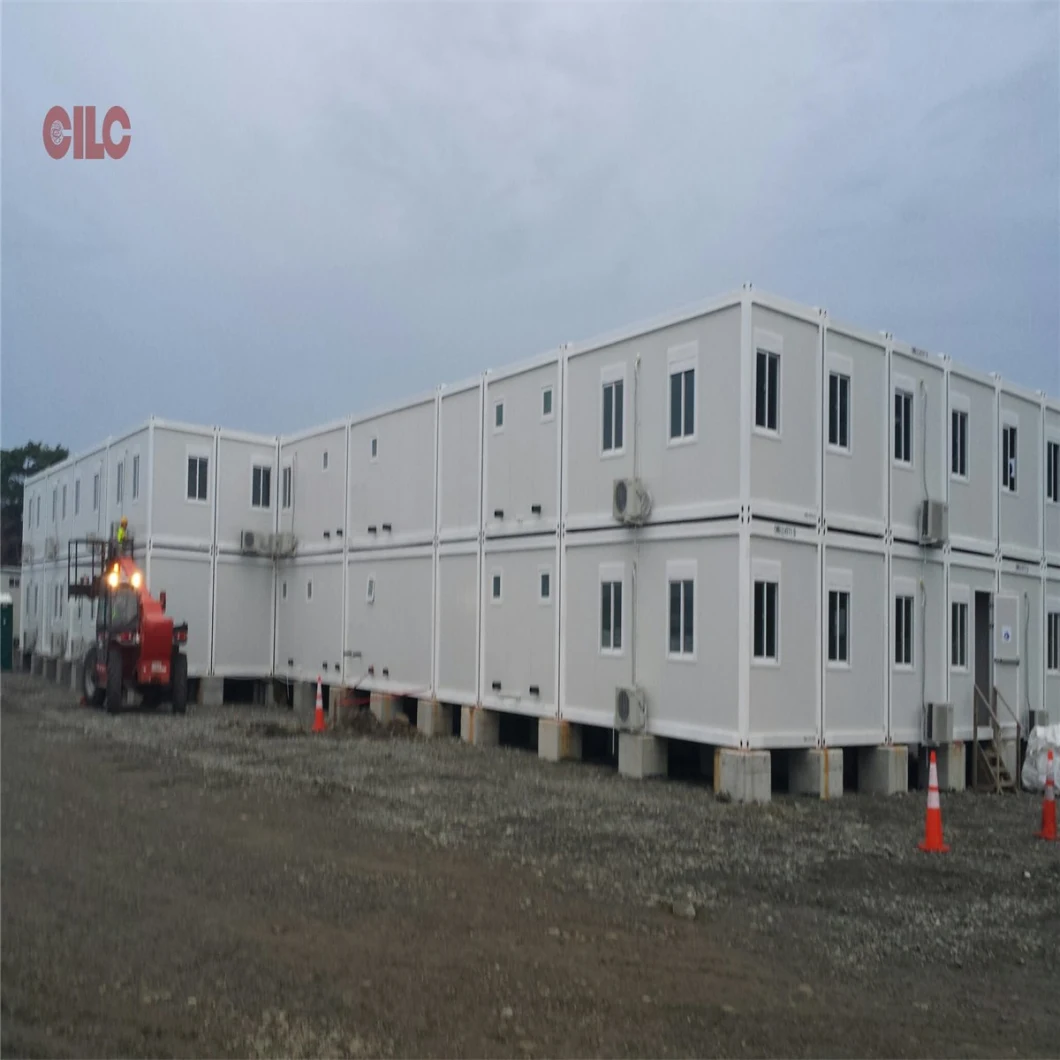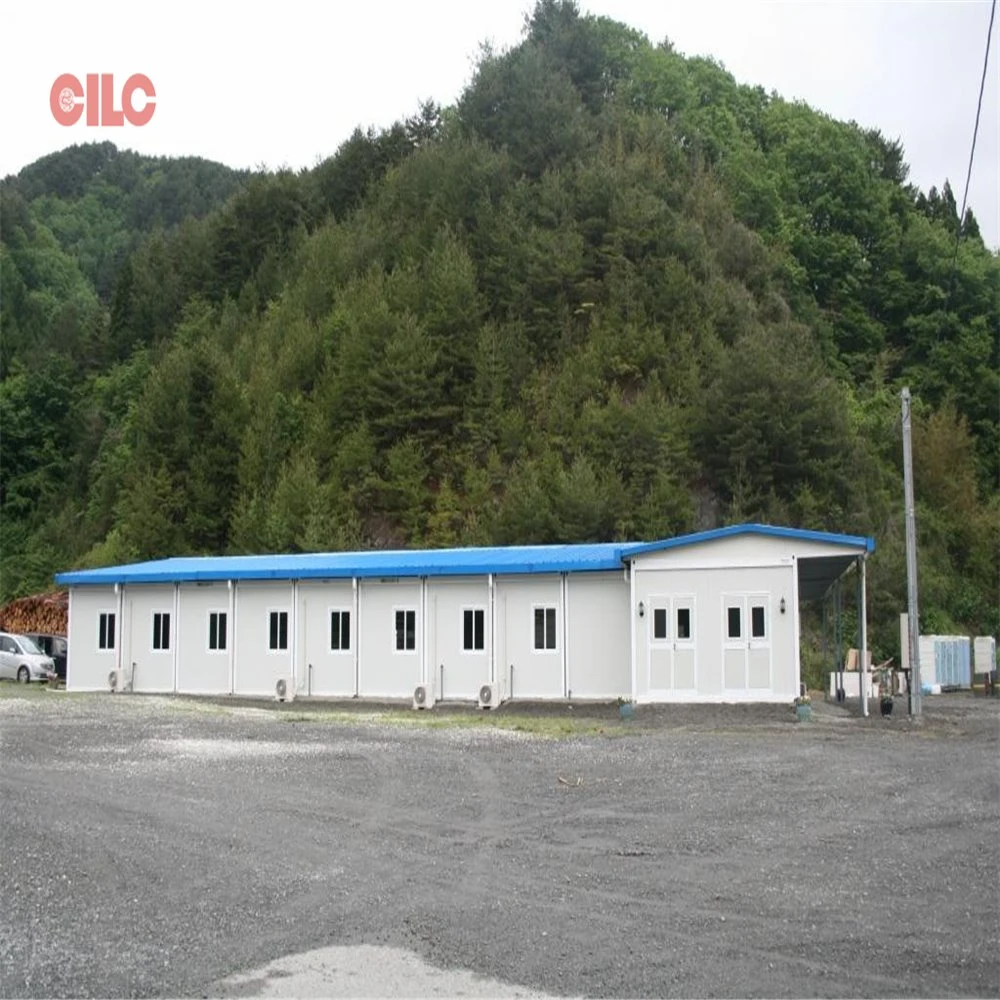 Welcome to call or email consultation!





Item

Description

Name

multi container house

Structure

@ Galvanized steel structure with corner casts and forklift pockets 90x256x2050mm
@ Available size, 8ft x 10ft, 8ft x 16ft, 8ft x 20ft, 8ft x 24ft, 8ft x 30ft, 10ft x 20ft

Wall panel

@ Easily removable interchangeable wall panels with galvanized steel sheet on both sides.
@ Available size, 60mm,70mm,100mm

Insulation

@ High heat or sound insulation, mineral wool or PU

Door

@ right or left hand hinged
@ inward or outward opening
@ steel frame with triangular wrap-around sealing
@ door blade with galvanized steel sheets on both sides
@ insulated with honeycomb
@ Aluminum or Steel type
@ Regular size:900*2030mm

Window

@ PVC frame with insulated glazing and integrated Aluminum roller shutters
@ color: white
@ sliding or Tilt & turn mechanism
@ Regular size: 900*1100mm; 850*1260mm

Electrical

@ CE,AS/NZ,UL

Further specification upon requests.
For more information please refer to cilccn.en.made-in-china.com