Somalia flatpack container house building for Modular Building, Accommodation, Office and living Building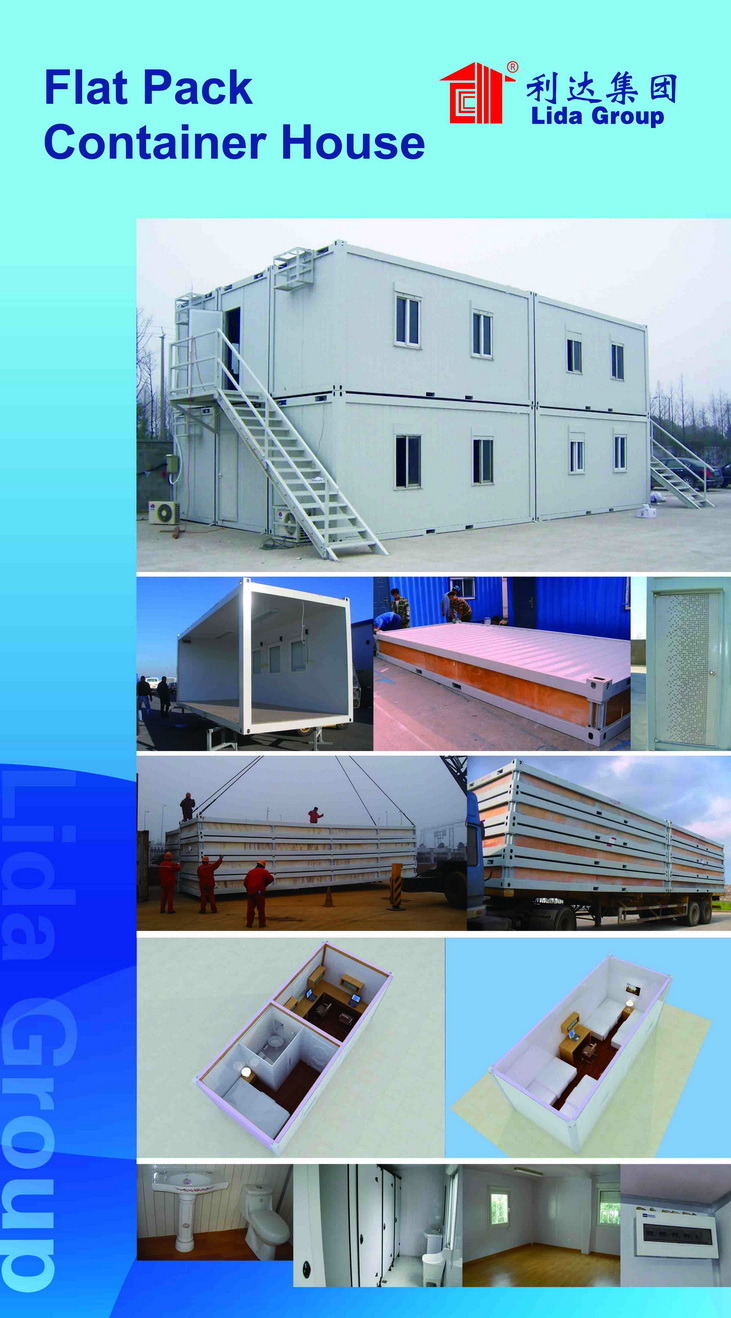 Technical Parameter:
Size: GP20, GP40 and HP40 of shipping container
Wind Resistance: Grade 12
Wall permitted loading: 0.6KN/ m2
Ceiling Permitted live loading: 0.5 KN/m2
Wall Coefficient of thermal conductivity: K=0.442W/mk
Ceiling Coefficient of thermal conductivity: K=0.55W/ m2K
You are so welcome to send us inquiries!
Characters:
1) Good ability to assemble and disassemble for several times without damage.
2) Could be lifted, fixed and combined freely.
3) Heatproof and waterproof.
4) Cost saving and convenient transportation (Each 4 container house can loaded in one standard container)
5) Service life can reach up to 15 - 20 years
6) We can provide the service of installation, supervision and training by extra.
Dimensions and Weight
Inner length /external length: 5.81m/6.06m
Inner width /external width: 2.188m/2.438m
Inner height/external height: 2, 410m/2.591m
Weight: 2000kg per unit
Steel framework
Material: Steel material Q345, thickness: 3.5mm, for top beam frame. Base beam frame and column.
Surface working: Epoxy painting, two bottom and two surface.
Fittings: 8 standard container corner mould fittings PVC standard rainwater pipe
Forklift openings: Size 100*250mm, distance is 1200mm
Floor
External wainscot: Flat galvanized color steel sheet, 0.5mm thickness
Floor structure: Girder made of 3.5mm steel. The purlin is C section steel. Dimension 60x40x1.5mm.
Warm proof Insulation layer: 75mm rock wool
18mm bamboo plywood
2.0mm PVC floor leather for living rooms floor;
Ceiling
Construction:
Roof exterior layer: 1.2mm steel plate with epoxy painting
Warm proof insulation filling: 75mm rockwool between C section purlins;
Inner wainscot: 8mm OSB board with 12mm PVC decoration board.
Roof water drain: 4 PVC rainwater pipes in the corner pillars, diameter 50mm
Walls
Panel width: 1150mm; Panel total thickness: 75mm, five panels fit into the long side and two panels fit into the short side.
Construction:
Common room wall: 75mm rockwool 0.4/0.4mm Galvanized
Steel on both side, Desity of Rockwool: 120Kg/m3
Galvanize window opening on the wall if needed.
Door
External door: Insulated with opening dimension 950*2100mm, furnished with lock
With 3keys. Inner door: Insulated steel door.
Windows
Window material: PVC window with fly screen. Double glass, 4mm glass.
Electrical fittings option
Electrical wire, 2.5mm2 for lighting system, and 4mm2 for AC units.
Main outlet and input industrial socket with 32A.
3 pcs 16A five hole universal socket.
2 pc double tube fluorescent lamp, 220V, 50-60HZ
1 pc Single Switch, Honyar brand, with junction box
1 pc Electrical distribution box, box+breakers+earth leakage protective device
Optional Water system fittings
Water drain pipe, PPR pipe, dim 16-20mm, connection fittings are made of copper, life span over 10 years.
Exhaust fan or air exchange hole, size 250mm*250mm made of steel or PVC
Sanitary ware:
Western Close tool: Ceramic, with pipes and installation fittings
Urinal: Ceramic, with pipes and installation fittings
Wash basin: Ceramic, with post, faucet, pipes and installation fittings
Shower head, Shower base, Water mixture
We would like to give fully support for your further inquiry!
Best regards
Steven Chen
---------------------------------------------------------
Weifang Henglida Steel Structure Co., Ltd.
Add: Room1102, Unit B, Zhonghui Commercial Building, Qingdao, 266000, China
Tel: 0086-532-88966982 Fax: 0086-532-88965571
Moble: KSA: 00966-548943324 China: 0086-13869829462
Flat Pack Container
Frame
Steel Frame
3.5mm,Q235, welding,rust removal,epoxy painting
floor support
C100x40x2.0, welding,rust removal,painting
fork lift open
4mm,Q345
Roofing
outer steel sheet
1.2mm steel sheet, proceed,epoxy painting
steel keel
C80x40x20x2.0
insulation layer
80mm glass fiber, 12Kg/m3
wooden board
8mm
PVC board
12mm
Wall
EPS sandwich panel
75mm sandwich panel
outer door
light steel door, including door lockers,etc
sliding window
Douber Glazing PVC window, 4mm glass,with window screen
Floor
floor leather
2.0mm, including glue
plywood board
18mm plywood board
Insulation
100mm glass fiber
Floor bottom board
0.5mm
Electric unit
Electric cable
Honyar brand, lighting 2.5m m2, aircondition: 4.0mm2, BV cable, solid core. Three diferent color
PVC wire Channel
Honyar brand
Lights
double tube fluorescent lamp, 220V,50-60HZ
Switch
with junction box
Socket
10A, Five hole universal Socket, with junction box
Power distribution cabinet
box+switch+earth leakage protective device
common socket
16A
ceiling light
38W
electric cable
three colors
switch
distribution board
box+switch+earth leakage protective device
Others
lift corner piece
standard parts
rainspout
Φ50PVC
accessories
self-tapping screw,glue,edge cover,etc
transpotation
From factory to Qingdao port